A pleasant breath of fresh air to the public library
In the summer of 2022, Pleasant Hill Library welcomed the Diablo Valley community inside its new facilities. After approximately two years of ongoing construction and planning, this public library now provides 24,000 square feet of open spaces, tools, and technology for community members of all ages and interests in a diverse, adaptive, and energy-efficient environment. The project is distinguished by a significant focus on energy efficiency and sustainability and targets net zero carbon certification.
Visit a reference project
Solution
Location
Pleasant Hill, California
Sector
Culture
Project Type
New build
Controls & Technology
Products
Year
2022
The modern, light-filled building features a large, open-spaced main hall dedicated to book stacks and reading areas. At 55 feet wide and 200 feet long, the hall allows for the flexibility of diverse programs and easy reconfiguration should the library's needs evolve. A continuous south-facing clerestory combined with sets of large circular skylights allows natural light to flood the interior. Three cedar-clad pavilions off the main hall house a 'messy makerspace' for classes and workshops, a 'story lab' for children's story-times and author talks, and a 'retreat' for quiet reading and study.
Outdoor spaces include an Activity Yard featuring large-scale wood play structures by a local artist, and a quiet reading patio with views of the Creek landscape. Other spaces include a welcome area and lounge, an early literacy area, a teen zone, several smaller-scale study rooms, and a Friends of the Library bookstore.
Supports local engagement
The all-electric, highly energy-efficient design is targeting net-zero carbon certification and provides radiant heating and cooling, natural ventilation with night-flush operability, and a rooftop PV solar array. Behind the architectural design is Bohlin Cywinski Jackson, who describes the library as an adaptive environment striving to support local engagement and discovery. Other collaborators behind the project include MEP engineers Introba (formerly Integral Group), structural engineers Rutherford + Chekene, BHM Construction, and AAC Glass, Inc.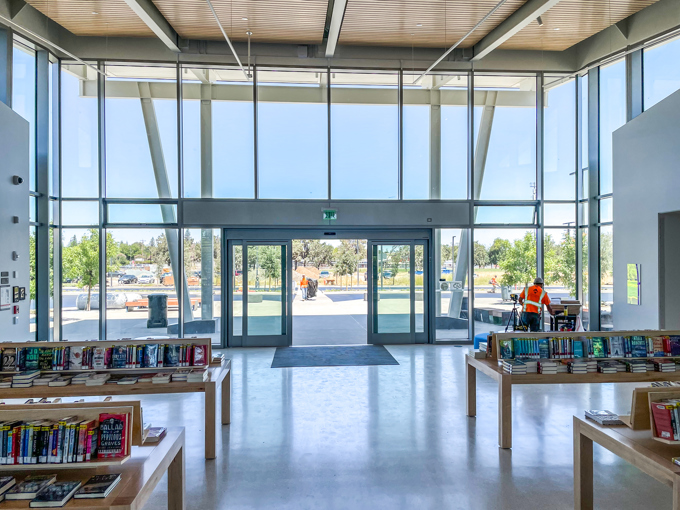 "The project represents a significant milestone for the city as one of its first civic buildings constructed in many years. The library provides a welcoming, open accessible destination with dedicated spaces, tools, and technology to support education, literacy, and lifelong learning. Community engagement and dialogue were essential in creating this new public library."
Michael Kross
Project manager at Bohlin Cywinski Jackson
Intelligent control of façade and skylight windows
In each part of the library, natural ventilation is utilized as a vital design strategy. Sales Director at WindowMaster Mia Brøndum explains, how the indoor climate strategy makes use of all of the most demanded mechanisms of the adaptable and highly intelligent NV Embedded® system. This includes integration with the Building Management System. Based on intelligent software, this scalable solution is fitted to the needs of the building and controls the façade windows on both the eastern, western, northern, and southern facades. The actuators with the MotorLink® technology included for the Lamilux skylight windows are controlled by NV Embedded®.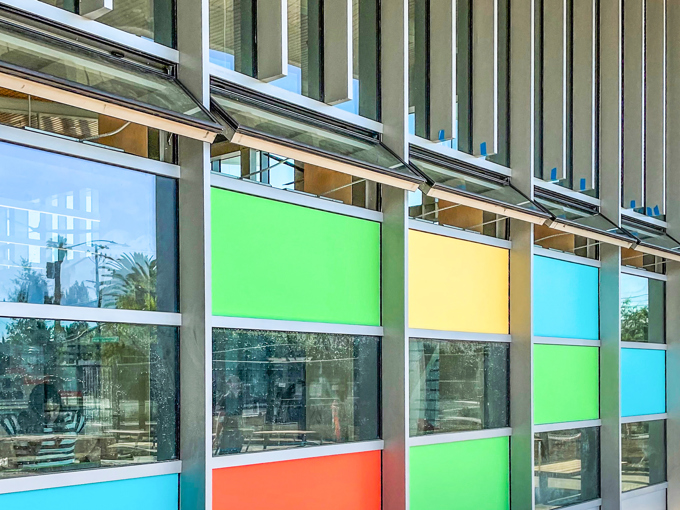 "Using our cloud-based system for natural ventilation enables high-level control of each window and half of the skylights. The indoor climate is regulated based on intelligent monitoring, using indoor and outdoor sensors that measure factors like weather data and indoor CO₂, temperature, and RH levels. Thanks to NV Embedded®, these community spaces are provided with fresh air whenever required."

Mia Brøndum
Sales Director at WindowMaster
Intelligent control of windows: MotorLink®
MotorLink® is a communication technology that enables 2-way control and feedback between window actuators and the Building Management System via the MotorController. All WindowMaster control systems are MotorLink® capable with many of our actuators. Click below to learn more and see related products.
Read more Taking advantage of the California climate
As part of the library's HVAC design, several passive strategies are integrated to utilize the moderate Bay Area climate. The placement of the building on the site, which stretches the building along the east-west axis, provides the building's rectangular shape with an optimized solar orientation while harnessing the prevailing breezes from the southwest. The design utilizes the inherent thermal mass of its energy-efficient, hydronic radiant floor slab, as the building's primary means for both heating and cooling. This radiant system is the ideal method to deliver thermal comfort – less warm or cold air is required, which reduces the need for high air volumes and the resulting noise and drafts. Ceiling fans are provided throughout the interior, circulating the air and maximizing thermal comfort.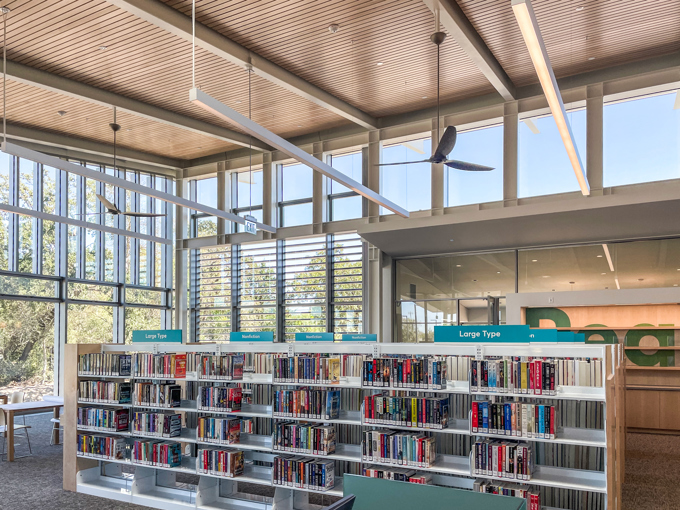 Fresh air reduces the spread of diseases
The WindowMaster natural ventilation system is programmed with a night-flush cooling mode during warmer months to benefit from the climate's large diurnal swing. The motorized windows allow outside air to cool the building and its floor slab overnight, thus minimizing the amount of active cooling needed the next day. This approach has the added benefit of increased resiliency over a standard HVAC design. During the day, access to fresh air reduces the spread of respiratory diseases such as influenza and COVID-19, an added benefit for this community gathering space. In the case of a wildfire event, all operable windows will close, and the active mechanical system, equipped with MERV-13 filters, will provide code-minimum air exchanges. Local controls for ceiling fans, lighting, and window shades, allow adjustments by end users. The all-electric building features large rooftop solar panel arrays, which have been sized to provide enough renewable energy to meet net zero energy and carbon certifications. These environmental initiatives not only reduce carbon emissions but provide social benefits, with a comfortable interior environment flooded with natural light, ambient acoustics, and views of nature. Economic benefits include improved operating costs and reduced maintenance over the building's lifespan. The result is a holistic indoor climate approach that promotes the comfort and well-being of both staff and guests for many years to come.