A customized control system for large buildings
NV Advance® uses Computational Flow Dynamics to implement advanced control strategies. Contact our specialists to hear more about this system
Get a system demo
NV Advance® delivers
Integration to BMS via KNX

This ISO certified open field bus enables communication between the MotorControllers, sensors, keypads, and system panel.

Control for large buildings

Ideal for buildings with more than 8 ventilation zones.

Intelligent parameters

NV Advance® monitors indoor and outdoor conditions in real time which allows the system to optimize the climate based on customized control parameters.
Get started: From design to aftercare
We can help you find the best control solution for your building project, as well as guide you throughout its implementation and aftercare.
1.  Early design and planning
Get an obligation-free assessment by our engineers and specialists
Receive suggestions for the ventilation design and a whole-building approach
Further design support available: dynamic simulations, CFD analysis, air change calculations
2.  Implementation and handover
System is installed and commissioned by WindowMaster or our certified partners
You'll receive operational and maintenance documentation plus end-user training 
Fast support with our telephone hotline 
3.  Recommended follow-up services
Service, maintenance and functional testing of hardware
Software maintenance and updates
Remote service, updates, fault identification and backup 
System Example
There can be many different ways to configure a system for a building. This image provides an overview of one possible scenario.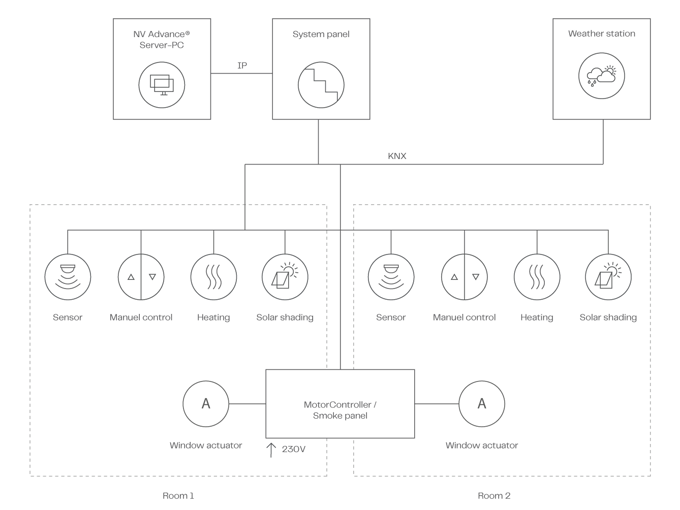 Download Brochure
Would you like to read more about NV Advance®?
Key features of NV Advance®
Optimized Night Cooling

Sensors send data on the indoor and outdoor conditions allowing the system to calculate an optimized night cooling approach while maintaining building security.

Data Logging

Continuous logging and storage of all data concerning interior climate, weather conditions, window positions and any system errors. Ideal for analysis and system optimization.

Web-based Management

This gives the user intuitive access for monitoring and adjusting the system. The tool also includes visualization of building, floor and room status with the possibility of opening/closing windows.

Solar Shading

Built-in controller coordinates venetian blinds and awnings. It also includes functions such as timed up/down function linked to calendar, up/down function depending on lux levels, and the option of manual input.

Integrated Smoke Ventilation

Incorporates smoke ventilation control with natural ventilation control which means that the same equipment can be used for both purposes. Available in select markets only.
Intelligent control of windows: MotorLink®
MotorLink® is a communication technology that enables 2-way control and feedback between window actuators and the Building Management System via the MotorController. All WindowMaster control systems are MotorLink® capable with many of our actuators. Click below to learn more and see related products.
Read more