Augusta University Cancer Research Center
In 2019, the Augusta University Cancer Research Center completed its 72,000 sq. ft. expansion of the existing 170,000 sq. ft. building. The expansion is a key part in helping the center carry out its mission to reduce the burden of cancer in Georgia and across the globe.
Visit a reference project
Solution
Location
Augusta, Georgia
Sector
Healthcare
Project Type
New build
Connecting BMS to window automation
In this newly built section, WindowMaster window actuators and MotorControllers were chosen as part of the building's heat and smoke management strategy by contractor Gilbane Building Company. These products are connected to the building's heat and smoke management system as well as the Building Management System. Our mounting and chain brackets were also used on the top-hung, outward opening windows. In the case of a fire, the fire alarm system sends a signal to the window actuators to open. Once the actuators have opened, they then communicate back to the system that they have reached their specified fully open position.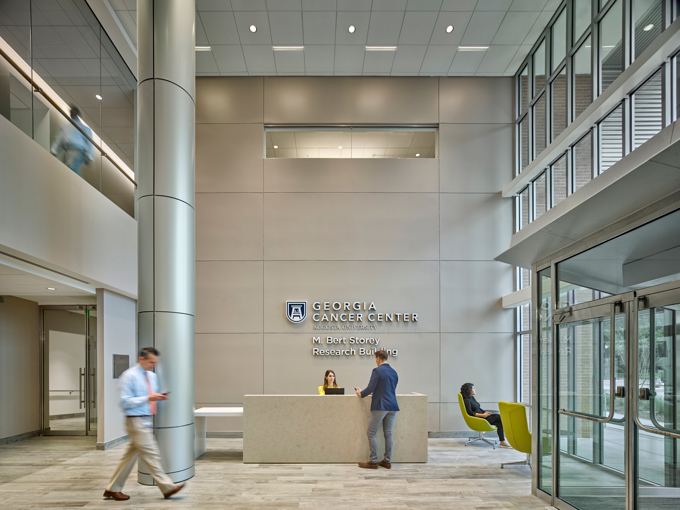 Intelligent control of windows: MotorLink®
MotorLink® is a communication technology that enables 2-way control and feedback between window actuators and the Building Management System via the MotorController. All WindowMaster control systems are MotorLink® capable with many of our actuators. Click below to learn more and see related products.
Read more UL Certified products for heat and smoke management
The control units receive communication from the window actuators regarding their position, and then communicates this information back to the building management systems. This communication technology is a unique offering from WindowMaster called MotorLink®.
All products from WindowMaster used in the CRC are UL certified and used as sub-components in the master heat and smoke system.
The window actuators used are 44 units of WMX 804 with a custom opening/closing speed of 9.5mm/second. There are also 14 units of WMU 831 which are designed for large and heavy windows and as an elegant alternative to spindle actuators for roof windows. 10 units of WCC 320 P MotorControllers were used to manage the communication between the actuators and master heat and smoke system.