Living Building certified by the Living Building Challenge 2.0 (LBC), the Bullitt Center is a high-performance, net-zero energy and net-zero water urban office building in Seattle. In order to attain the certification, the building had to provide fresh air and daylight via operable windows to every occupant. The building also had to meet indoor air quality standards measured post-occupancy, in addition to the other LBC requirements.
Visit this reference project
Solution
Location
Seattle, WA
Sector
Commercial Buildings
Project Type
New build
Controls & Technology
Year
2013
Demand controlled ventilation with smart window automation
To finetune the ventilation approach, the design team integrated the energy model to the comfort and airflow model that provided the anticipated window opening and closure data. Paramters and controls for the window automation are managed by the building management system. The WindowMaster actuators delivered to the project feature a unique communication technology, MotorLink® which establishes a 2-way communication link between the actuators and the BMS.  
Building sensors, which monitor indoor and outdoor conditions, then help the system to coordinate the opening and closing of the windows to maintain the building's low energy goal for cooling and ventilation.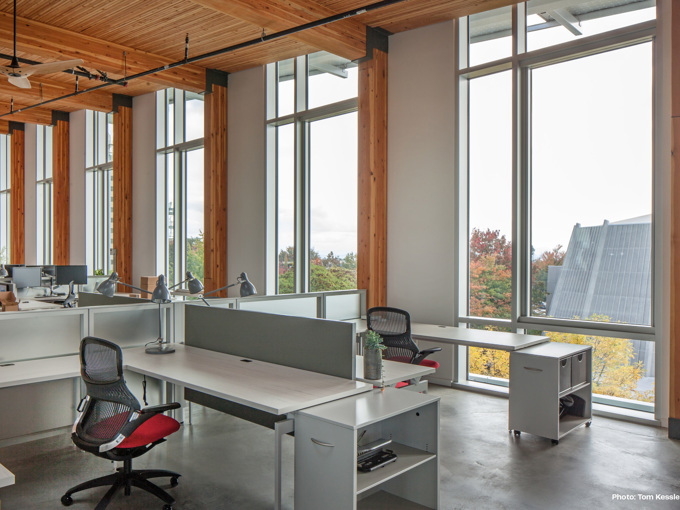 Intelligent control of windows: MotorLink®
MotorLink® is a communication technology that enables 2-way control and feedback between window actuators and the Building Management System via the MotorController. All WindowMaster control systems are MotorLink® capable with many of our actuators. Click below to learn more and see related products.
Read more Passive ventilation and a mixed mode approach
Night purge or night flush ventilation are also employed for passive cooling of the building. However, when mechanical assistance is needed, the window automation technology coordinates with the BMS to open or close the windows to allow the radiant floor systems to further heat or cool the building.