Naturally breathing, bio-based, and built for the future
"Can we build a building that sequesters more carbon that it takes to construct"? This question represented a cornerstone for the design, construction, and choice of materials, which now form the daily learning frames for the school children of Feldballe. Located in the small Danish town of Rønde, Feldballe is home to an ecovillage, where the houses consist of renewable materials. When the local school expanded their facilities with new science labs and a classroom, compiling a highly sustainable design was merely a logical step. The result is a building extension with a carbon footprint of 6.7 kg CO2eq/m2/year, equivalent to 335 kg CO2eq/m2 over a 50-year lifespan.
Visit a reference project
Solution
Location
Rønde, Denmark
Sector
Education
Project Type
New build
Controls & Technology
Products
Year
2022
Locally sourced and recycled materials
Designed by Henning Larsen, the project explores construction methods that enable the building to capture more carbon than it emits. Thanks to the investment from the Danish philanthropic association Realdania, climate and environmental concerns were top priorities. Due to the 2,700 ft² school extension, students of Feldballe can now abide in one of the most sustainable schools in Europe, while enjoying plenty of daylight, no exhaust fumes and naturally ventilated fresh air. The Feldballe project is ground-breaking in many ways. One remarkable feature is the near-exclusive utilisation of bio-based materials that have proven viable alternatives to standard products like concrete, bricks, and steel. Each product has been carefully selected for its indoor climate characteristics and global warming potential. The school extension is built almost entirely of locally sourced, natural, and bio-based materials – a construction system that is adaptable and applicable in a vast range of building typologies. With circularity and waste management in mind, the structure focuses on easy disassembly and reuse, making it possible to reinstall or recycle its parts in the future.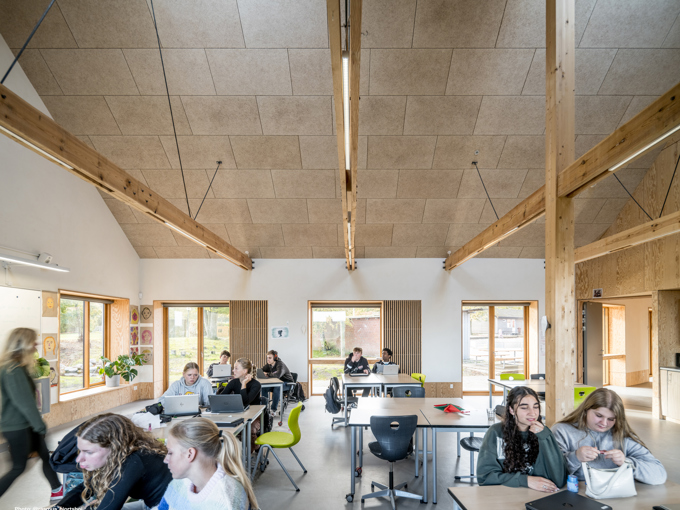 5 ambitious design principles
The team behind the project had set a number of dogmas. In addition to creating as sustainable a building as possible, it was vital to ensure a good indoor climate with plenty of daylight, good acoustics and fresh air without off-gassing from the materials. Based upon a radical rethinking of the choice of materials, the project's innovative design concept consists of the following principles: 1. Incorporating sustainably sourced, renewable, bio-based materials. 2. Reusing locally produced materials. 3. Employing materials free of toxic chemicals that minimise off-gassing. 4. Ensuring a healthy indoor climate based on good daylight levels while providing natural ventilation and lowering energy consumption. 5. Designing for disassembly, enabling future reuse of building components. Today, the result of this uncompromising material strategy is a school that has totally redefined the standards for sustainable construction.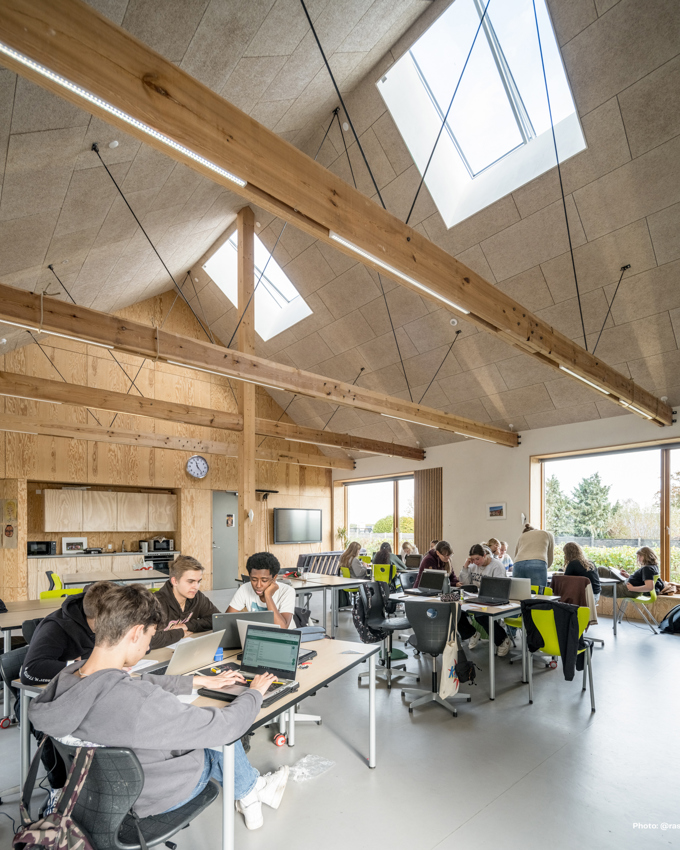 A carbon sequestering eco-innovation
The materials consist of hall elements, plastered with clay and clad with wood inside and out. Apart from being fire-safe and completely free of toxic chemicals, these materials make up suitable moisture regulators, offering efficient insulation and paving the way for a breathable house. According to Henning Larsen, EcoCocon's revolutionary panel system of compressed straw in wooden cassettes constitutes the primary design element. The surface of the straw panels is covered with a 30 mm coat of clay on the interior side. Carbon sequestration is one of the many qualities of straw, and during its life, it absorbs large amounts of CO2, which is then safely stored within the building. Choosing materials that naturally absorb and store CO2 in the carbon cycle has therefore generated comprehensive carbon savings.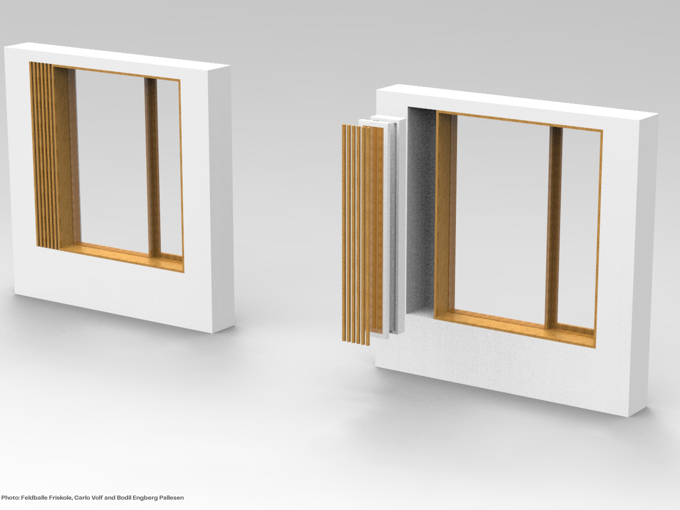 "To confront our industry's carbon emissions throughout the value chain, we will continue challenging our design approach and construction methods. Feldballe School will generate immense carbon saving from straw-based construction, with comparable built projects using EcoCocon's panels sequestering more carbon than is emitted throughout the entire building process."
Henning Larsen
Award-winning natural ventilation
The outstanding indoor climate is not least due to Notech by WindowMaster™ – a natural ventilation system that architect MAA and Ph.D. Carlo Volf (Volfdesign) has developed in collaboration with Danish Technological Institute and WindowMaster. It consists of an outer and inner façade element, a controlled opening for natural ventilation and an eelgrass filter. Due to its significant potential for supporting learning among school children, the system was awarded the Danish Design Award 2021 in the 'Better Learning' category. Notech by WindowMaster™ solution wins Danish Design Award 2021 in the category Better Learning
Carlo Volf describes Notech by WindowMaster™ as a holistic indoor environmental and architectural solution centred around the health-related effect of fresh air.
"Based on an intelligent demand-controlled natural ventilation system, it provides an optimal balance between fresh air and comfortable temperatures in the room. Notech by WindowMaster™ can be adapted to different building types, depending on the approach. The design can therefore vary to accommodate the actual need. The overall idea is that you have an element that can be constructed in the outer wall or added as an extension to the exterior façade. The system utilises natural ventilation as passive cooling during the summer and solar passive heat during the winter. Meanwhile, you will be able to reduce costs related to energy consumption, construction and maintenance, " he explains.
Ideal learning frames
According to Carlo Volf, Notech by WindowMaster™ combines several elements to create a better learning climate – a view that the school manager at Feldballe School Trine Wad Andersen supports. She describes how the students are now provided with the most optimal learning conditions due to the persistent fresh air and a comfortable temperature.
"We have been enjoying our fantastic new building for over a year. The light and indoor air quality in the room is amazing. The building houses the best facilities in the school, and everything works wonderfully together when it comes to design and indoor climate. We are very proud of this project, which results from excellent cooperation between the collaborators involved and us", she states.
Seaweed filter with countless properties
Integrated directly into the EcoCocon straw panels, this intelligent demand-controlled system pulls air through the facade via an eelgrass filter – an element that contains several surprising properties. With soft material and a vast surface absorbing sound, especially in the treble range, this material reduces outside noise, which is a frequent challenge for learning environments using natural ventilation systems. Apart from the acoustic benefits, Notech also takes advantage of several other qualities associated with eelgrass. This includes filtering the outdoor air, purifying, cooling, and stabilising the air, while absorbing odours and moisture. Eelgrass also contains a natural salt content providing a fire-retardant effect approved for building constructions. Also, eelgrass is Gold-certified in Cradle-to-Cradle, making it the perfect choice when designing with the future in mind. The system can utilize natural ventilation as passive cooling during the summer and solar passive heat during the winter. Ultimately, this eco-innovation automatically balances fresh air with comfortable temperatures by reacting to CO2, heat-, and moisture levels. It's almost as if the house is actually breathing while ensuring an ideal and healthy climate for learning.