How can you create natural ventilation in buildings?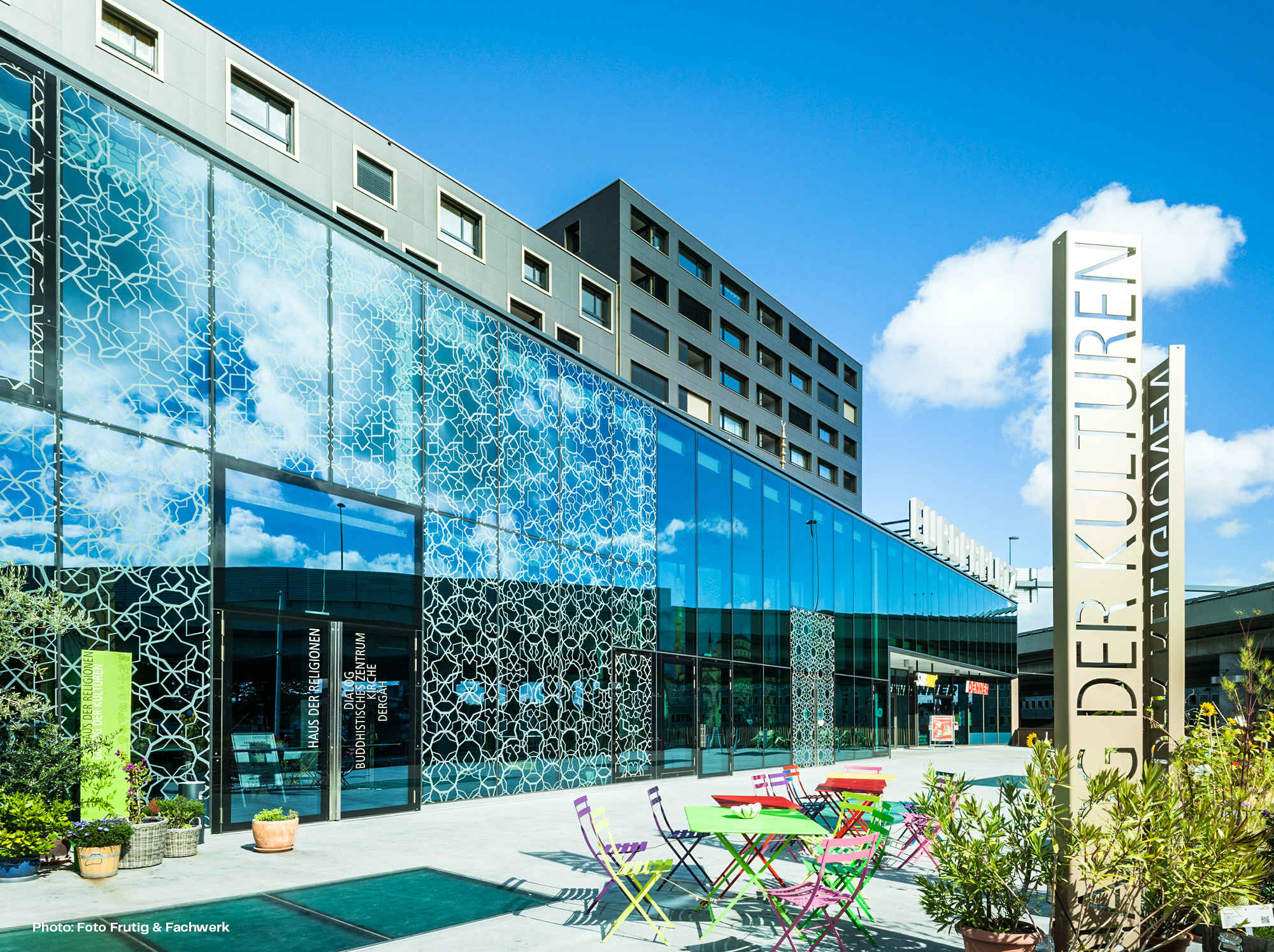 You can create natural ventilation in your building in many ways, and finding the right ventilation method for you can be difficult without the right knowledge and support. That is why we have collected the best tips and the most important knowledge to consider when finding the optimal ventilation approach for your building. Find out which ventilation strategy is best for you, how you can create it and how we can help make natural ventilation in buildings as uncomplicated and efficient as possible.
How to choose the ideal type of natural ventilation for your building?
Three main ways to ventilate buildings naturally are single-sided, stack and cross ventilation. These natural ventilation strategies work most effectively depending on your building structure. Therefore, it is important to consider what method fits your project best.
Read about the Natural Ventilation Strategies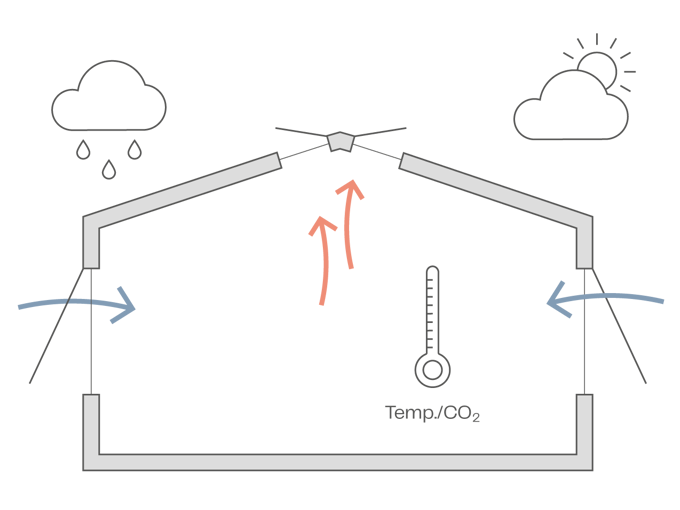 Natural ventilation for tall buildings
Stack ventilation is the perfect solution for taller buildings with windows in the ceiling and at the bottom of the building on its facade or sides. By having windows placed at both the top and bottom of the building, cool and fresh air can be drawn into the building's lower level. And as the air gets exposed to different heat sources and becomes warmer, the stale and warm air then rises and is vented out through the above windows, creating natural ventilation in your building.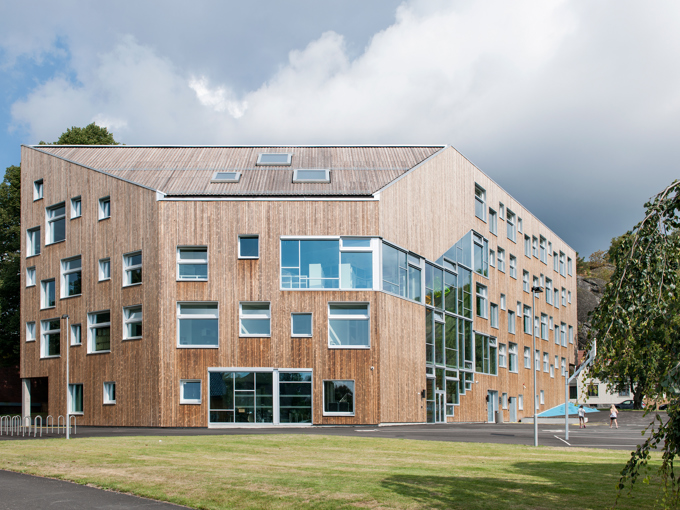 Natural ventilation for low and narrow buildings
If you have a low and narrow building structure, where the room you are placing the window in does not exceed 5 times the room height, cross ventilation would be the best way to create natural ventilation in your building. By placing a window on each side of the building, you make a pressure difference between each side. This means one side of the building draws the fresh and cool air in while the other draws out the warm and stale air, filling your office with nice outdoor air. Therefore, the shorter the distance is between the windows the faster the wind can travel through the room. If you cannot place windows on both sides of the building, Fear not. There is also a natural ventilation solution for your facility. If you have a window on a single side of your building, you can create single-sided ventilation. This type of natural ventilation mainly works for smaller areas as it has a lower efficiency than cross ventilation. Read our natural ventilation design guidelines to know which space dimensions best fit each ventilation strategy.
Read our design guidelines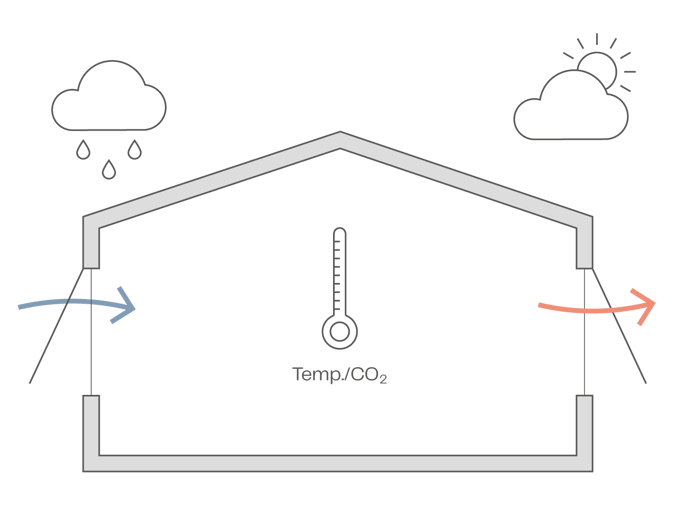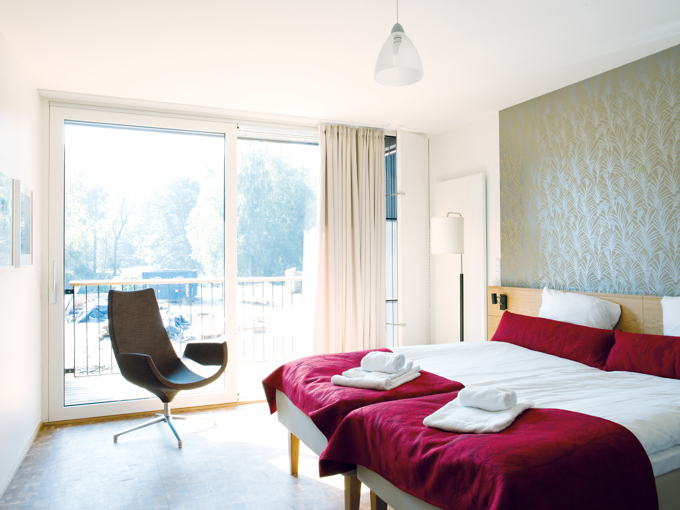 Contact Kasper
No matter which type of natural ventilation for buildings you are looking for, we can help create it with our SMART technology, expertise and knowledge
Feel free to contact us if you have questions or need guidance regarding indoor climate and building projects.
Contact a Specialist
Here are a few relevant links you can explore to get an even better understanding of what natural ventilation fits your project best
Why have natural ventilation in your building?
There are several benefits of creating natural ventilation for your building project compared to mechanical ventilation, some of which are:
Better indoor air quality
By bringing fresh outdoor air in and removing stale indoor air, you optimise the well-being and productivity of the people in the building. For instance, by replacing the stuffy air, you provide a breath of fresh air to the brain, improving your concentration. At the same time, you also reduce the risk of indoor air pollution, creating a healthy indoor environment where sickness cannot spread easily.
More energy efficient
By relying on natural airflow, your ventilation does not require energy through motorised fans, which means you have a lower energy consumption with natural ventilation in buildings compared to motorised systems.
Freedom of design
With naturally ventilated buildings, there is no need for duct penetrations or pipework, which means you increase ceiling heights creating more space to create aesthetic designs. Additionally, the increased windows allow more natural daylight to shine inside the building, creating a more energised space.
Are you not convinced that natural ventilation is perfect for your building project? Explore ten amazing advantages of natural ventilation.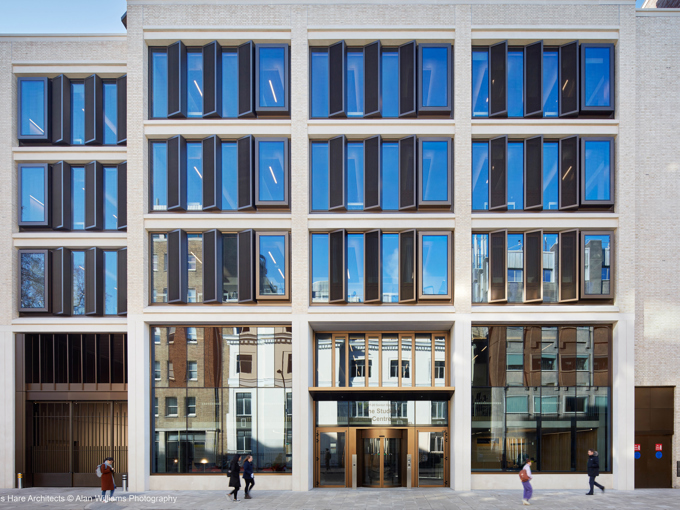 Make natural ventilation in buildings easy with SMART-technology
We can help you make natural ventilation as easy as possible in your building. With our SMART-Technology, we provide intelligent control over your natural ventilation, keeping the building safe while creating a comfortable environment for people in the building with minimal effort.
Our smart window automation technology, such as MotorLink® or our NV Embedded® control system for natural ventilation, enables accurate and effortless control of all your windows in the building. This gives the built environment several advantages compared to having manual natural ventilation, such as:
Creating less work
Our natural ventilation system can - through different sensors - monitor temperature, CO2 levels and humidity, meaning you do not need to think when the windows need to be open or closed, as our SMART-technology does it for you.
Being more convenient
As our systems are automated, meaning they close and open on their own without you having to do anything,, it becomes much easier to close the windows on the roof or in the highest of places.
Making a more focused environment
Not having to get up and manually open and close the window every time you need fresh and cold air creates less disturbance for you and others while working.
Strengthens the building's security
You can schedule the windows in your construction to close according to your building's closing hours using the system's fixed schedule function. Meaning you do not need to worry if any people in the building forget to close a window before leaving.
These advantages are merely the tip of the iceberg of all the great possibilities our intelligent natural ventilation systems provide. Do you want to know more? Read about our control systems here.
Make the buildings a part of your sustainability efforts
Do you want to improve the indoor climate in your facility while reducing your carbon footprint? Then our intelligent natural and mixed-mode ventilation is for your building project. By having natural ventilation systems, you reduce your building's energy consumption as you do not solely rely on mechanical systems to create ventilation. This way, you emit less CO2, as you require less operating energy made from fossil fuels and rely more on natural forces. As if more is needed, our systems also require less materials when building and installing. For instance, you do not need ducting when creating natural ventilation in buildings. This means there is less manufacturing and demolition of materials, decreasing the CO2 emission when building and demolishing your office, institution company and more.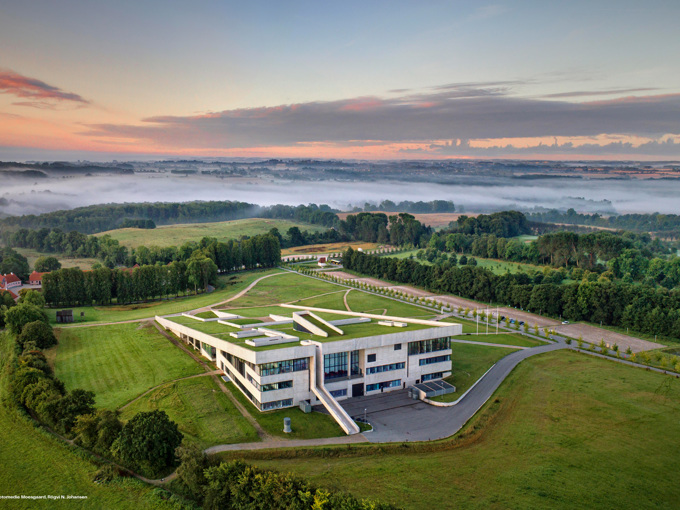 Your experienced sparring partner for natural ventilation in buildings
Do you want cleantech for natural ventilation in your buildings? Then we are the right choice for you. We have several years of experience developing, designing, manufacturing, and distributing cleantech ventilation products. Therefore, we provide you with professional and experienced guidance and sparring throughout your building project. With our team of experts educated in Building Performance Engineering, you can get all the help and guidance you need to find and build the perfect natural ventilation solution for your building.
Contact us, and get started today