WEA 164
Digital input module, 4 channel
Digital input module used for receiving information via third party systems
Used for the control unit NV Comfort®
Get a quote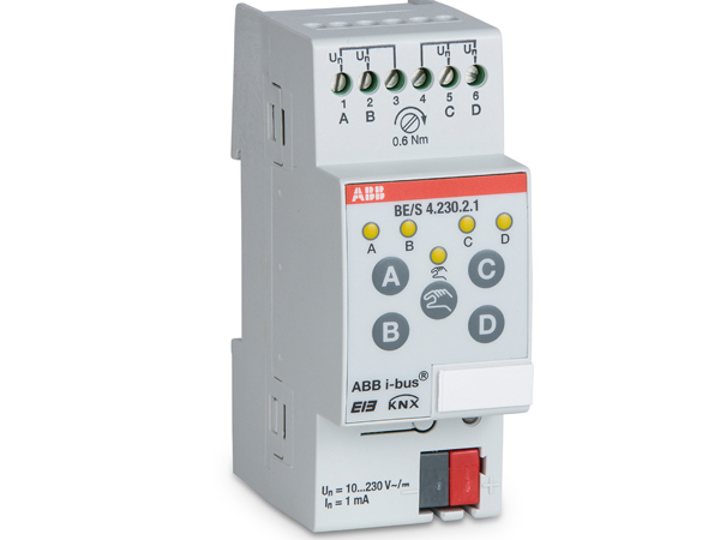 Main features
Natural ventilation

The product is suitable for comfort ventilation to ensure that the building's users enjoy a comfortable indoor climate

KNX certified

The product is KNX certified and supports this BUS communication
Product Details
4-fold Binary Input with manual operation.
The device is suitable for reading out 0...265 V AC/DC signals.
Inputs A and B are independent of inputs C and D.
Manufacturer: ABB. Type: BE/S 4.20.1. www.ABB.com
Specifications
Technical specifications

Bus voltage

21 ... 32 VDC

Current consumption, bus

<10mA

Power consumption

max. 1.8W

Leakage loss, bus

max. 200mW

Number inputs

4

Permitted voltage range

0 ... 265 V AC/DC

Input current In

max. 2mA

Signal level for 0-signal

0 ... 120V AC/DC

Signal level for 1-signal

180 ... 265V AC/DC

Permitted cable lengths

100m with 1.5mm²
Delivery includes
Intelligent control of windows: MotorLink®
MotorLink® is a communication technology that enables 2-way control and feedback between window actuators and the Building Management System via the MotorController. All WindowMaster control systems are MotorLink® capable with many of our actuators. Click below to learn more and see related products.
Read more