NV Comfort® - NVC KNX A02
NV Comfort® - natural ventilation for up to 8 zones / rooms
Controls natural ventilation in up to 4 respectively 8 zones
Controls the radiators, sun screening and light in the zones
With NV Manager™ enables log data for the zones
Get a quote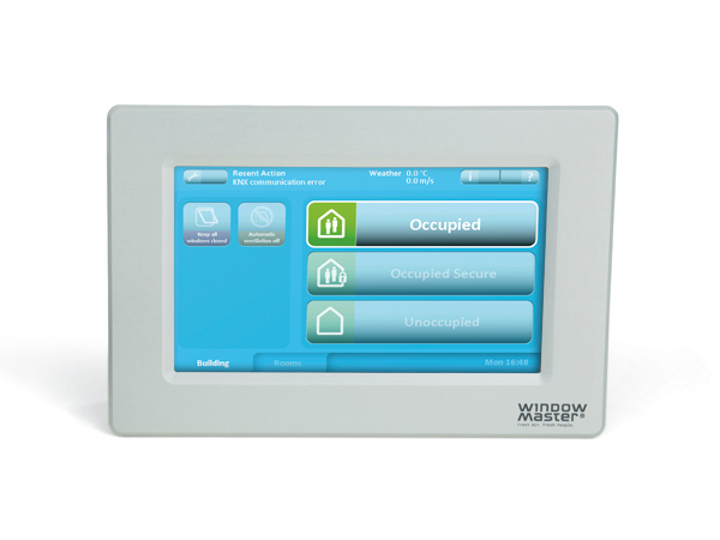 About NV Comfort® - NVC KNX A02
Main features
Natural ventilation

The product is suitable for comfort ventilation to ensure that the building's users enjoy a comfortable indoor climate

KNX certified

The product is KNX certified and supports this BUS communication
Product Details
NV Comfort® controls façade and roof windows so that they automatically open and close by incremental amounts on the basis of individual fixed values for the desired room temperature and CO2 levels, as well as measurements of external temperature, rain and wind speed.
The overall operation on the installation is performed using the touch screen, where there are menues for the daily operation of both the building level and a zone-by-zone level, as well as menus for setting the operation parameters so that windows and any connected heating, mechanical ventilation, lighting and shading are controlled automatically.
NV Manager™ enables remote control NV Comfort® and log data (event log) for the zones.
To be used with NV Comfort® version 2.2.1.4 or newer.
For further information please read the product sheet "NV Comfort® Log and remote control".
Specifications
Technical specifications - TOUCH SCREEN
Screen

7'' LCD - Wide VGA touch screen with frame

Size
Screen:
Frame:
185 x 126 x 52mm (WxHxD)
211 x 140 x 5mm (WxHxD),

brushed anodised aluminium

Material

Plast housing with front surrounding in brushed anodised aluminium and adaptor

Power supply
120-230 VAC
Technical specifications - NET ADAPTOR
Plug

Supplied with plug for Western Europa, UK, and US

Cable lenght
1.2m
Delivery includes
NV Comfort® touch screen with alu frame.
To be ordered seperately:
- software card NVC SC
- basic pack NVC BP KNX 11
- build on frame NVC A102 (but only if NV Comfort® is to be build-on)
Intelligent control of windows: MotorLink®
MotorLink® is a communication technology that enables 2-way control and feedback between window actuators and the Building Management System via the MotorController. All WindowMaster control systems are MotorLink® capable with many of our actuators. Click below to learn more and see related products.
Read more